Sacred Monsters
Mysterious and Mythical Creatures of Scripture, Talmud and Midrash
Rabbi Natan Slifkin
---
General Information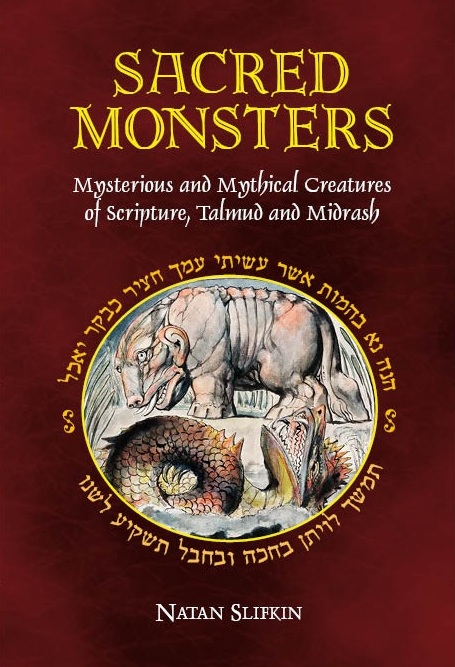 Dragons, unicorns, mermaids... all the famous creatures of myth and legend are to be found in the Torah, Talmud and Midrash. But what are we to make of them? Do they really exist? Did the Torah scholars of old believe in their existence? And if not, why did they describe these creatures?
Sacred Monsters is a thoroughly revised and vastly expanded edition of the bestselling book Mysterious Creatures. Rabbi Natan Slifkin, the famous "Zoo Rabbi," revisits all the creatures of that work as well as a host of new ones, including werewolves, giants, dwarfs, two-headed mutants, and the enigmatic shamir-worm. Sacred Monsters explores these cases in detail and discusses a range of different approaches for understanding them.
Aside from the fascinating insights into these cryptic creatures, Sacred Monsters also presents a framework within which to approach any conflict between classical Jewish texts and the modern scientific worldview. Complete with extraordinary photographs and fascinating ancient illustrations, Sacred Monsters is a scholarly yet stimulating work that will be a treasured addition to your bookshelf.
"Sacred Monsters delves into topics (especially "monsters") in the natural history of the Jewish sacred sources (hence, "sacred" in the title). The book combines competence in more than one field: the history of ideas and of science, the modern biological disciplines, and rabbinic literature of all periods... Slifkin's book has much to offer folklorists, while catering to a composite public: scholarly or ordinary readers, Jewish or gentile, devout or secular, steeped in Western culture or committed to ultra-Orthodox doxa... a delightful book. Slifkin has achieved the rare feat of writing a book that would appeal to a broad readership, and at the same time will also satisfy discerning scholars." - Review, Fabula 52 (2011)
Hardcover/384 pages/ Retail Price $29.95/ Published 2007 by Zoo Torah/ Distributed by Yashar Books
Available at Jewish bookstores throughout the U.S., Canada, and Israel. It can also be ordered online here ($24.95 plus $5.00 shipping and handling to USA and Israel):
Residents of South Africa, Australia and Europe - $24.95 plus $15 shipping:
Now also available in iBooks format for iPad!
---
Contents
Preface
Introduction: Confronting Monsters
1. Unicorns of Different Colors
2. Mermaids, Krakens, and Wild Men
3. Gigantic Giants
4. Diminutive Dwarfs
5. Sea Monsters and the Leviathan
6. Behold the Behemoth
7. The Fabulous Shamir
8. Two-Headed Men & Other Mutants
9. The Phoenix from the Flames
10. Royal Griffins
11. The Remarkable Roc
12. Dragons & Fiery Flying Serpents
13. The Secret of the Salamander
14. Vegetable-Men & Tree-Geese
15. The Mud-Mouse
16. The Sweat-Louse
Bibliography
Indexes
---
Praise for the book
"Rabbi Natan Slifkin's newest book is a delightful mix of Talmudic teachings, zoological science, and historical investigations. Anyone who ever doubted the comprehensiveness of our Torah will now be convinced that kulah bah - there is a place in it even for 'sacred monsters.' Rabbi Slifkin is to be commended for once again offering us a work which answers questions, informs, and, in this case, even entertains."

—Rabbi Dr. Tzvi Hersh Weinreb,
Executive Vice President, The Orthodox Union
"References in the Talmud and Midrash to curious zoological phenomena are often more mystifying than the creatures themselves. Rabbi Slifkin's thorough scholarship, so well proven in his previous works, comes through once again. Even more important than providing answers to thorny questions surrounding the subjects of the book's title, this work helps the student plot a steady course through the sometimes churning waters of the Sages' science. How much did they rely on the science of their day? When did they—and when did they not—mean to be taken literally? Rabbi Slifkin provides answers consistent with the spirit of our mesorah. By doing so, the profundity of the Torah of our Sages shines with even greater brilliance."

—Rabbi Yitzchok Adlerstein,
Author, Maharal: Be'er HaGolah
"Rabbi Natan Slifkin's new book, Sacred Monsters, is a very impressive work, combining exceptionally broad scholarship in such varied fields as science, classical literature, and the Jewish tradition. It provides fascinating insights into the literature of legendary creatures and their possible origins. In this particular book, the author has managed to avoid the many pitfalls awaiting anyone treating the intersection between science and Torah."

—Professor Yehudah Leo Levi,
Rector Emeritus, Jerusalem College of Technology,
Author, Torah and Science
---
Updates and Corrections
In the final chapter, Rabbi Shlomo Fisher's views on the authority of Chazal are discussed. A similar position is taken by Rav Asher Weiss in Minchas Asher, Devarim, pp. 174-182.